Date: 21 June 2017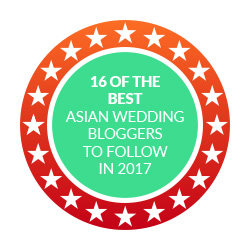 Getting married is supposed to be one of the best days of your life, but it's no secret that the run up to the wedding can be brimming with unaffected stress. Luckily, the rise of wedding bloggers has proven to serve as a helping hand for those who are tying the knot.
There are plenty of Asian wedding bloggers making their mark on the internet and here are 16 of the best to follow in 2017. 
Sharn Khaira, who runs Desi Bride Dreams, is a dab hand at wedding planning and is adamant that no two weddings should be the same. If you're after glitz and glamour, this is the blog for you to follow this year. 
Desi Bride Dreams covers everything from Asian wedding planning mistakes to wedding cakes doesn't shy away from tackling controversial topics such as interfaith ceremonies. 
Big Fat Asian Wedding has made a real impact in the wedding blogging world and is the right place to go if you're in serious need of some wedspiration. With a focus on Asian bridal fashion, you'll find plenty of inspiration on attire and mehendi designs on this blog.
Submissions from weddings are also accepted on this blog, so you'll be able to see real Asian weddings in action. 
My Asian Wed is the ultimate guide for any Asian bride and groom. Relying heavily on visuals, this blog features images which will really spark your creativity when planning your nuptials.
There's even a whole section dedicated to suppliers so that you can find everything you're looking for in one blog.
Whether you're already in the throes of wedding planning or you're newly engaged, South Asian Bride will provide you with tons of inspiration on everything from photoshoots and invitations to jewellery and decor.
With high-quality images taken from real South Asian weddings, you'll get an up-close and personal look at the endless possibilities from the conventional to the quirky. 
What really gives this blog its edge is that it features interviews with real brides and grooms regarding their love story and how they went about planning their weddings. Maharani Weddings frequently posts wedding features which detail the ins and outs of real weddings so that you know what to expect on your big day. 
If you're after decor inspiration, Wed Me Good is the place for you. Not only does this blog offer you some of the most fabulous decoration ideas, it also shows you how to achieve them on a tight budget!
Up to date and endlessly stylish, this blog is perfect for any bride and groom who want some ideas for a modern wedding.
This blog is a jack of all trades, bringing you posts on everything from bridal beauty to married life – it even touches on more abstract subjects such as this post on The Dilemmas of an Asian Husband.
You'll also find images of real weddings on Perfect Planner so that you can see the details from Asian nuptials around the world – the ultimate wedding inspiration. 
From the Mehendi to the Shaadi, Indian Wedding Site has got you covered. This blog will provide you with pointers both on how to style your wedding and how to style yourself for your celebrations.
With money saving tips and high-quality images for inspiration, Indian Wedding Site has classy South Asian weddings down to a tee and it even offers you advice on everything from dealing with in-laws to wearing heavy earrings.
Think Shaadi leaves no stone unturned when it comes to weddings; here you'll find posts without pretence, tackling very real subjects like how to keep children entertained at a wedding and tips for getting guests to RSVP.
Not only does this blog give you all the advice you need for your wedding celebrations, it also has a whole section dedicated to honeymoons so Think Shaadi will be with you every step of the way.
Sultana Malik, who runs Dream to Inspire, is a Scottish Asian blogger with a Bachelor's degree in events management. On her blog, Malik has a series called 100 Days of a Scottish Asian Bride which details her own bridal experience to inspire her readers and to serve as a diary on which to look back.
Malik's refreshingly honest account of getting married is both relatable and entertaining, so she's definitely one to follow this year. 
Asian Fashion Journal is a true hub for all things bridal style and, if you're looking for innovative and swanky attire for your big day, this is the blog for you to follow in 2017.
This blog's bridal section covers everything from fabrics to shopping tips so that you'll be as prepared as possible for the pre-wedding shopping trips. 
With an extensive list of sections, including wedding songs, checklists, and templates, Shaadi Bazaar leaves nothing to be desired.
Here you'll find posts on everything from how to respectfully negotiate with your wedding vendors to choosing your Indian wedding invitations and there's a whole load of inspo to ignite your imagination.
If you really want your wedding to stand out, Wedding Asia has got you covered. This blog covers everything you can think of and then some, including bridal entry songs, what to gift a groom, and everything you need to know about having an ice sculpture at your wedding.
This blog is also great for DIY decor tips and all of the nitty gritty details that you might not have thought about before tying the knot.
Whether you've got your eye on wedding fashion, beauty, or DIY, Asian Wedding Ideas will not disappoint. This blog brings you everything from real weddings to blog reports on wedding shows, so you'll always be kept up to date on what's happening in the Asian wedding world.
With generous giveaways and an on-site shop, Asian Wedding Ideas will cater for all of your inspo needs and has the goods to follow through. 
Zohaib Ali is a wedding photographer and media graduate who has a passion for documentary wedding photography and his blog is proof of his unprecedented talent. If you're seeking wedspiration, Ali will not disappoint with his top notch and intimate photography of real Asian weddings.
His creative shots will provoke your interest and give you plenty ideas for both your wedding shots and your wedding style.
This easy to navigate blog is perfect for wedding planning strategy; with posts on how to perfect your wedding seating plan and tips for picking the right Hindu wedding priest, you won't be short of advice on any topic.
Carriages also features lookbooks so that you can find style inspiration from the most fashionable Asian couples.